The Health Information Management Program consists of two academic years and a summer session for 69-quarter credits of graduate level course work. The curriculum is based on a series of structured learning sequences, which include didactic, laboratory and professional practice experiences. Include courses about finance, administration, information technology and law. The curriculum is offer during evening hours, from 5:00 to 9:00, except the experience of professional practice performed in daytime.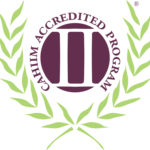 The Health Information Management accreditor of the University of Puerto Rico, Medical Sciences Campus, School of Health Professions is the Commission on Accreditation for Health Informatics and Information Management Education (CAHIIM). The Collage's accreditation for the Master degree in Health Information Management has been reaffirmed through 2030. All inquiries about the program's accreditation status should be directed by mail to CAHIIM, 200 East Randolph Street, Suite 5100, Chicago, IL, 60601; by phone at (312) 235-3255; or by email at info@cahiim.org.
Program graduates are eligible to apply for the registration examination of the American Health Information Management Association (AHIMA) to qualify as a Registered Health Information Manager (RHIA) and practice the profession as a qualified health information administrator.
"Health Information Management (HIM) professionals, an allied health profession, lead efforts to ensure the availability, accuracy, integrity, and security of all data related to patient healthcare encounters that result in better clinical and business decisions to enhance healthcare quality" (AHIMA, 2021). As a member of the health team, the (HIM) professional performs tasks regarding the definition, design, management, and evaluation of the health information system. They serve in bridge roles, connecting clinical, operational, and administrative functions.
Career Opportunities
The health information manager can offer services in general and specialized hospitals; nursing homes, health care and outpatient treatment; outpatient surgery center, colleges and universities; insurance companies and pharmaceutical industries in general. It offers advice on various areas and you can create your own business in billing for medical services, among others. Visit AHIMA's Career Map for additional information on job titles, descriptions, salaries, and career pathways.
Health Information Management (HIM) professionals enjoy a broad selection of job opportunities and options for professional growth. Based on skills, education, and interests, some of the positions available include HIM department director; HIM system manager, data quality manager, information security officer, HIM college instructor, and consultant. Other job titles include privacy officer, compliance officer, health data analyst, patient information coordinator, physician practice manager, and director of quality management. Jobs in health information management are available in every state as well as internationally. A degree in health information management is portable, preparing graduates to work nearly anywhere.
HIM professional works as a critical link between healthcare providers, payers, and patients. The RHIA is an expert in managing patient health information and medical records; administering computer information systems; collecting and analyzing patient data; and using classification systems and medical terminologies. RHIA's possess comprehensive knowledge of medical, administrative, ethical and legal requirements and standards related to healthcare delivery and the privacy of protected patient information. They often manage people and operational units, participate in administrative committees, and prepare budgets.
A career in HIM is right for you if you:
See yourself in a career that offers diverse opportunities.
Would like to work in health care, but not directly with patients.
Have an aptitude for science, but also like management, law, and technology.
Enjoy working with professionals: physicians, nurses, lawyers, administrators and executives.
Want a career where you can choose to work on your own, with others, or both.
HIM program incorporate the disciplines of medicine, management, finance, information technology, and law into one curriculum. Because of this unique mixture, HIM graduates can choose from a variety of work settings across an array of healthcare environments.
The program leading to a Master's Degree at the School of Health Professions, of the Medical Sciences Campus, University of Puerto Rico. The duration of the program is two years and is offered in evening hours, excluding visits to institutions and internships that are made in daytime.
In order to be considered for admission, applicants must meet the following requirements:
Hold a bachelor's degree or its equivalent from an accredited university.
General grade point average of at least 2.50.
Specific grade point average of at least 2.00
Have approved a three-credit course with no less than "C" in each of the following areas: Human Anatomy, Human Physiology, and Fundamentals of Information System (Skills in MS OFFICE or equivalent). (Admissions are accepted with evidence of almost one of these courses in order to evaluate candidates. If accepted, you must have the courses approved at the time of enrollment).
Interview with the program's faculty.
Fluency in Spanish; must also have knowledge and comprehension of English.
Students are admitted to the program once a year beginning in August of the current academic year. Applicants to the program should have submitted all application. Deadline for submitted application is February 28. In order to evaluate candidates (admission) transcripts evidence the specific courses required should be received. For more information, please contact the Admissions Office at 787-758-2525, extension 5211/5213.
Apply for admission to the Program
In order to graduate, students must:
Obtain a general grade point average of 3.0 or higher.
Satisfactorily complete (with B or higher) in courses specified in the curriculum sequence.
Complete all theoretical and clinical practice activities specified by the program.
Complete graduation requirements within a five-year period.
Students Achievement/Outcomes
The 100% of graduates obtain employment on or before 6 months (APAR, 2020-21).
The 100% graduates expressed to be satisfied with the Program for a 100% general satisfaction (APAR, 2020-21).
The program has a 80% of graduation and retention rate (APAR, 2020-21).
A 100% of students score 80% or higher in the PPE evaluation. (APAR, 2020-21).
The 100% employer and graduates indicate that possess the knowledge, competencies, professional conduct and communication skills necessaries to perform their duties (APAR, 2020-21).
Dr. Amarilis Rivas Vidal, Program Director
Dr. Sandra Santos Nieves, Faculty Member
Dr. Sandra Silva Cintrón, Faculty Member
Medical Center Complex
Monacillo Area, Río Piedras, Puerto Rico
School of Health Professions, Main Building, 6th Floor, Office #626
Phone: 787-758-2525, ext. 4509, 3499
Secretary: 787-758-2525, ext. 3521, 4507
Admission: 787-758-2525 ext. 5213
Last Modified: April/2023