The Post-Doctoral Master of Science in Clinical and Translational Research program is a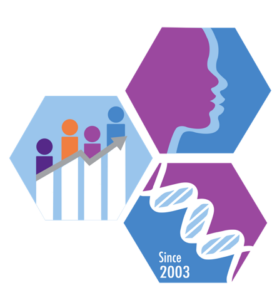 joint academic offering between the School of Health Professions and the School of Medicine of the Medical Sciences Campus, University of Puerto Rico. The program started in 2001 with a NIH-Planning Grant and has been continuously partially funded by the National Institutes of Health (NIH) (2022-2027) through the Hispanic Clinical and Translational Research Education and Career Development (HCTRECD) Award (R25MD007607) from the National Institute on Minority Health and Health Disparities. Through distance learning modality it offers a two-year multidisciplinary training program in clinical and translational research, integrating the didactic component (24 semester credits) with a mentor-based research experience (6 semester credits) to prepare independently funded and committed clinical translational researchers.
The program's mission is to promote the development of multidisciplinary clinical scientific teams working in collaboration toward the attainment of two common goals: improvement in quality of life and decreasing health disparities among Hispanics.
At present the postdoctoral master program is the only formal training program in clinical and translational research for young faculty with a doctoral degree in Puerto Rico.  Our program has extensive local and national partners/collaborations including Universidad Central del Caribe, Ponce Health Sciences University, Mayo Clinic and the University of Pittsburgh.
Through the research component course, the program targets specific health conditions of high priority to the Hispanic population based on the mortality and morbidity trends in Puerto Rico. The main areas that will be given priority are: cancer, HIV/AIDS, diabetes, infant-maternal health, mental health, drug abuse and addiction (alcohol and tobacco). Other areas that are considered are: liver disease, obesity, cardiovascular diseases, respiratory diseases, aging related conditions and oral health.
The program acknowledges that reinforcing multidisciplinary and interdisciplinary collaborations will enable to provide experiences that will help the Scholars develop the necessary research competencies in clinical and translational research.
Important Dates to Remember
For this academic year 2023-2024 the deadline for application and all required documents is: May 31, 2023.
Application Requirements
Minimum doctoral general grade point average of 3.0

 

Two official transcripts from the institution granting the doctoral degree

 

Two 

Letters of Recommendations 

from individuals acquainted with the applicant's science/research related activities

 

Fluent in the English language

One-page 

Personal Statement

 detailing how this program will contribute to the candidate career goals

 

Curriculum Vitae/Biographical Sketch

 

A two-page 

Research Intention Letter

 in one of the program's relevant health areas

 

If applicable, two formal commitment letters approving 50% release time for the first year and 75% release time for the second year to attend this program by: (i) Dean and (ii) Immediate Supervisor (Department Chair, Division Director or Program Director)

 
Interview with program's Admissions Committee (must speak English) 

 
Admission Requirements for NIH Fellowship Candidates
This Award will be offered to the top ranked candidates that qualifies:
Candidates must be: 

 

In a tenure track position at an academic institution

 

Within seven years of completion of their doctoral degree or 10 years from end of post-graduate clinical training

 

USA citizen or resident

 
NOTE: (Priority will be given to faculty from the Medical Sciences Campus, University of Puerto Rico) 
Relevant clinical degrees:  
MD, DDS, DMD, DO, OD, ND (Doctor of Naturopathy), PhD and Pharm D, among others. 

 

Also individuals with doctoral degree in the following fields can be considered: basic sciences, nursing, clinical psychology, engineering, education, social sciences, economics and other individuals with doctoral degree pursuing clinical and translational research.

 
Admission Requirements for Non-NIH Candidates
Any individual with a doctoral degree who doesn't qualify for the NIH Award can apply to the program.
Admission Formula 
The admission formula considers three main aspects:
General Doctoral Grade Point Average (GPA) (10%);
Personal and Professional Characteristics (PPC) (45%);
Performance Based Interview (PBI) (45%).
The maximum number of candidates to be admitted to the post-doctoral Master of Science in Clinical and Translational Research program will be up to five (5) Scholars.
A Master of Science in Clinical and Translational Research degree will be awarded to those scholars that successfully complete:
All MSc coursework 

 

A clinical and translational research project

An oral presentation of research findings to the Medical Sciences Campus community

 

An oral or poster presentation in a national/international scientific forum/ meeting/congress of research findings

 

Submission of a manuscript as first author to a peer-reviewed scientific journal.  This manuscript must have the acknowledgment to the NIMHD R25MD007607 and must comply with NIH public access policy. 

 

Mentor letter stating completion of IDP goals 

 
All Required documents must be mail or e-mail to:
Maribel Ortiz   
Admissions Officer
Postdoctoral Master in Clinical ad Translational Research Program
Oficina Central de Admisiones
P. O. Box 365067
San Juan, PR 00936-5067 
(787) 758-2525 ext. 5214
E-mail: maribel.ortiz5@upr.edu 
NOTE: Please be aware that Ms. Maribel Ortiz will only be answering questions regarding the admission process and/or application status process. If you have any question regarding the program requirements, please contact the Associate Director and Academic Coordinator: Dr. Maria T. San Martin at (787) 758-2525 ext. 1691, 2600 or by e-mail: maria.sanmartin@upr.edu.
(Please click here to access the Medical Sciences Campus Catalog and look for the Course Descriptions for this Program)
Medical Center Complex
Monacillo Area, Río Piedras, Puerto Rico
Celia Guzman Building, 3rd Floor, Office # 311
Postdoctoral Master in Clinical and Translational research Program
School of Health Professions
P.O. Box 365067
San Juan, PR 00936-5067
Ms. Camille Laporte (Administrative Assistant I) – (787) 758-2525 ext. 2600
Dr. Maria T. San Martin (Associate Director) – (787) 758-2525 ext. 1691, 2600